Arkansas Duck Hunting Paradise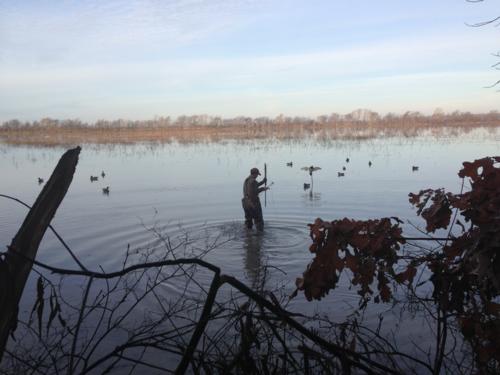 Arkansas Duck Hunting
This year I was looking for a unique gift for my Father-in-law, Brother-in-law and son who are all avid outdoorsman/hunters. As I thought about what the perfect gift would be, it occurred to me that the ability to get away from the hustle and bustle of the city and embark on an all guys hunting trip into the golden triangle of duck hunting -Stuttgart, Arkansas would be the perfect gift. Not only was it away to bond with family and loved ones, it was a way to experience one of the most exhilarating activities in the world. Duck hunting is a challenge, and many a men have set out to shoot down these beautiful birds, only to come back empty handed with nothing to show but some frozen toes. However, there is a way around coming home empty handed from your hunting trip. Venture onto the the Duck Downs Farm and experience the tranquility that attracts waterfowl in droves.
But before I get ahead of myself, Let me set the scene for you. We left out of Memphis at about 8:00am on the Thursday after Christmas and by 12:30 were at the lodge with full bellies. We stopped at a great country breakfast joint in Forest City, Arkansas and of course world famous hunting store, Mack's. You might be curious about the Lodge we stayed at, and you should be. Big Jim's Lodge, at the Cross Heirs Retreat Center run by the Beautiful Feet Minisitry, called the "Taj Mahal of Duck Hunting" by the Wall Street Journal, is the most beautiful lodge and retreat center I have ever seen. It was perfect. Secluded on a peninsula, it was on the water and near the woods, the center had it all. The Lodge itself was pristine, caretakers Mrs. Mo and her husband Jeff are exceptional hosts and took care of our every need with a warm smile and a handshake or hug. The rooms were warm and comfortable the amenities abundant and the food phenomenal. If you are looking for a place to stay in this area and you do not choose this lodge, you are a fool.
Just like you would be a fool not to stay at Big Jim's Lodge, you would also be a fool not to hunt with Duck Down Guide Service. The sprawling farm is set-up perfectly for duck hunting. With over 10 different blinds to choose from, you are sure to find the ducks. As avid duck hunters know, many factors come into play out in the blind, when trying to kill waterfowl. The duck hunting guides at Duck Down Guide Service know all the tricks. Our guide, who we and others call "Jabber" worked the duck call magically and made our hunt as simple as raising our shotguns and pulling the trigger. He drove us out to the blinds on one of several UTV's, he set up our decoys, worked the duck calls and called our shots. We killed numerous ducks on both the afternoon hunt and early morning hunt the next day. We wanted to stay for another afternoon hunt, where Jabber planned to set down some Speckle Bellied Geese right in front of us, just as he did the ducks that morning, but we had to rush back to Memphis for a previously planned event, leaving us itching to get back to the farm. Duck Down Guide Service owner, Ryan Henderson, was awesome for us. He stayed in constant communication leading up to the hunt, met us at the lodge to have dinner the night before and choose the best guide to fit our needs.
If you are looking for a guided duck hunt in Arkansas or even a self-guided hunt, Ryan and Duck Down are the guys to call. Make your life easy and let Ryan plan everything for you, he sets up your lodging, plans your hunt and takes care of you from start to finish to ensure you will have the duck hunting experience of a lifetime all for one very reasonable price. I have already booked my next hunt and would go every single weekend if my wife would let me!
Posted in: Duck Hunting
Reader Comments
0 Comments on Arkansas Duck Hunting Paradise